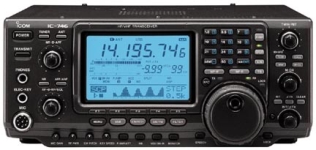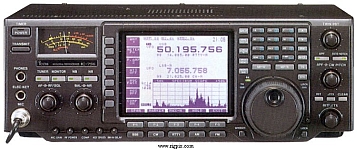 Icom IC-746 and IC-756
6 kHz Filter Solution
A replacement for the 9 or 15 kHz Filter
by Bob W2ENY
Icom 746 and 756, GREAT Radios! Filters are my only issue in AM Mode. The second I.F. factory filters are really too wide for AM! Granted, the audio quality sounds great, but I hear too much of the band. Whether it's AM Broadcast, Shortwave, 75 meters AM, I hear splatter and other conversations as far away 10 kHz, even with the 9 kHz filter. Passband tuning is really ineffective with a 9 or 15 kHz I.F. and if forced to use the 2.4 kHz narrow filter, there's no fidelity.
The NEW 6 kHz filter I offer can used in place of the internal 9 kHz or 15 kHz filter. Manufactured by Icom's same filter vendor, it may be used in Icom models IC-746 (not PRO) or IC-756 (not PRO). This filter also has 10dB more stopband attenuation (-35dB compared to -25dB, which reduces interference even more). The new and existing filters are the same foot print, same surface mount package and easily changed using a small (30 watt or less) soldering iron. There are no delicate parts located nearby the filter locations on the printed circuit board. Better yet, it's not like you're taking an eye test when you do this!
Comes with step by step color instructions for removal and replacement of the filter.
Actual color pictures of the radio internals are supplied to point out detail.
Check out the installation instructions online, click on your model here> IC-746 IC-756
$20 shipped when paid by check or money order!
Robert Langston
286 Hudson Street
Cornwall-on-Hudson, N.Y. 12520

Or $20 plus shipping thru Paypal